Steel-Craft Door Products Ltd. has been manufacturing high quality residential, commercial and industrial doors since 1963. Our 500,000 square foot manufacturing facility is located in Edmonton, Alberta, Canada. We are a privately-owned Canadian company with distribution centres and dealer partners across the country. We compromise on nothing to deliver everything that people expect from the Steel-Craft name.
THE ARTIST BEHIND THE CRAFT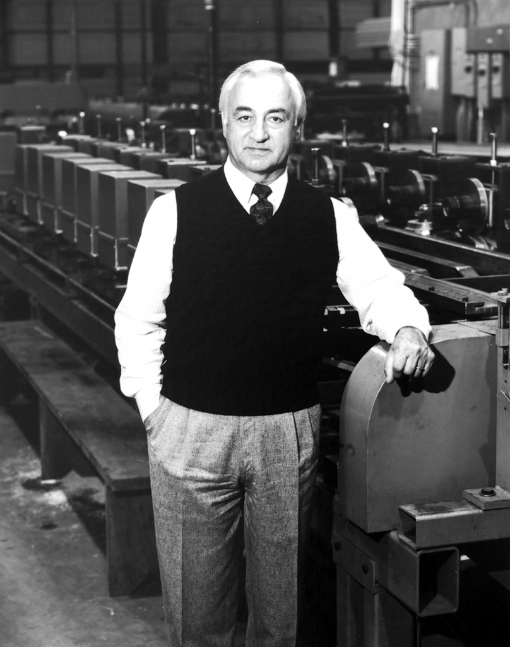 Art Mihalcheon founded Steel-Craft on a hunch. His first business was as an ornamental iron maker. As an artist, Art earned a reputation for building beautiful iron railings and decorative products that were long-lasting and strong – proudly over-engineered, he would say. As a businessman, he became known as a straight shooter and fearless innovator. He refused to use cheap materials and often crafted his own tools and equipment to get the job done in his then-out-of-the-way Prairie town. While the call for ornamental iron railings lessened, Art saw a rising need for well-crafted steel products such as garage doors. He took a chance on a budding home-building industry, and Steel-Craft was born.
Art's legacy of commitment to quality and ingenuity lives on at Steel-Craft today. We still refuse to work with inferior materials and continue to make our own parts. Art's tool-making ingenuity has evolved into a state-of-the-art manufacturing facility that uses technology and human expertise to ensure quality and efficiency, including minimal waste. His pioneering attitude shines through in Steel-Craft's long research and development history, making Steel-Craft Door Products a leading manufacturer in the garage door industry.
All Steel-Craft products are built to the highest engineering standards, and our in-house facility tests our products against stringent industry standards and then some. We offer our proudly over-engineered door products through authorized Steel-Craft Dealers and Distributors.