9' HEIGHT AND 10' HEIGHT AVAILABLE
Every door is finished with a factory applied, baked on, two coat polyester paint finish giving years of maintenance free operation.
The door may also be painted to suit the exterior colour specifications of your home.
Click here for Painting Instructions 
Note: The accuracy of the colours displayed may vary depending on the settings of your monitor. To obtain an exact colour reference, please contact a Steel-Craft dealer for colour samples.
Additional custom anodizing colours are available, please consult a Steel-Craft Dealer for details.
Acrynar coatings are an ultra durable fluoropolymer extrusion coating that is AAMA 2604-compliant.
Duranar coatings have a clear topcoat added for protection against ultraviolet, humidity and chemical attack.
For a full selection of custom powdercoat colours, please contact a Steel-Craft dealer.
PLAIN LITE
Standard 4mm tempered single pane and 4mm tempered sealed units.
Please Note: We strongly advise our customers to order Sealed Units in regions with higher humidity. Example: Eastern Provinces.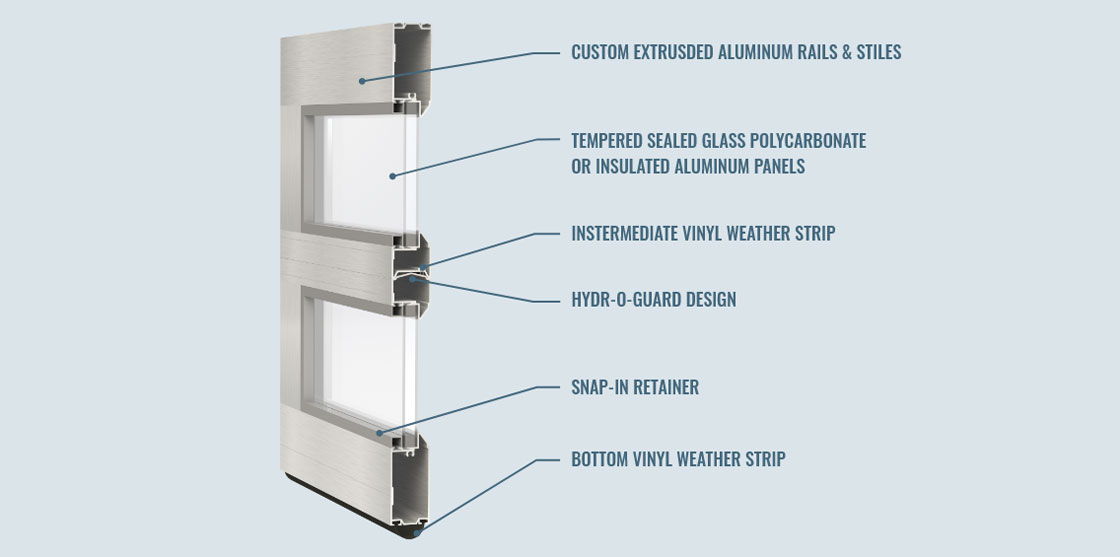 Re-designed to keep the weather out.
Note: New Aluminum rails will be used going forward on all Aluminum door styles.
Thickness: 0.071"(1.8mm);0.118"(3mm) at fastener locations.
Standard Top/Bottom/End Stiles: 6-3/8"(162mm).
Intermediate Stiles: 76mm/3.0″.3.0"(76mm).
0.05"(1.27mm) thick aluminum sheet material insulated and sealed to door frame.
Graduated end hinges and centre hinges made from galvanized steel.
Heavy duty rollers with heat-treated and outer races with 10 floating ball bearings.
2"(50mm) or 3"(75mm) wide galvanized steel tracks.
Doors over 11 feet in width are reinforced with 16ga galvanized steel "Z" brace per section.
Strutting required for doors wider than 11 feet (3,353mm).
Bottom weatherstripping: U-type arctic grade vinyl.
Jamb: quality factory finished metal with two-point flexible arctic grade vinyl weatherstrip.
Header: quality factory finished metal with two-point flexible arctic grade vinyl weatherstrip.
Reduces Sealant Stress: Super Spacer's thermoset silicone polymer material expands and contracts and always returns to its original shape.
Promotes Sound Absorption: The closed-cell polymer of Super Spacer transmits very little sound compared to conventional aluminum or less-metal warm edge spacers. We recommend the use of Super Spacer wherever noise from airplanes, trains or automobiles may be a problem for building occupants.
Improves Condensation Resistance: The significantly reduced tendency of Insulated Glazing (IG) units fabricated with Super Spacer to exhibit interior condensation or frosting means that the health problems associated with mold may be virtually eliminated.
The No-Metal Advantage: The edge of an IG unit is the most vulnerable part of the glass to heating and cooling losses, condensation and frosting. Super Spacer contains NO-Metal and is one of the most thermally efficient IG spacers available in the market today.
Globally Tested and Proven Performance: Super Spacer is the world's first polymer, NO-Metal warm edge spacer. Over 1 billion feet of Super Spacer has been used worldwide since the start of production in 1989. The company received the 1994 "Solar Company of the Year" award issued by Solar Energy Society of Canada, Inc. Super Spacer was awarded the DWM Green Product Award in both 2009 and 2010.